SMARTGEN(ZHENGZHOU) TECHNOLOGY CO., LTD. was established in 1998, a company which was listed on NEEQ. It specializes in design, development, manufacture, sale and service of engine/genset control, ATS and ATS control, engine heaters, battery chargers and related products. Its products are widely used in systems of National Defense, Telecom, Utility Power, Buildings, Marine, Fire Control, etc.
As a high-tech enterprise with a more than 40-person R&D team, SmartGen has successively developed hundreds of control modules with independent intellectual property rights and obtained almost 200 patents. The product technical and quality level leaps into the front ranks of the world.
SmartGen owns standard EMC and environmental labs, dust-free workshop, etc. Its annual sales of product has approached 200,000 and the market share ranks first in China for almost ten years.
SmartGen has passed the ISO9001, ISO14001, GB/T28001, CCSR9001 and GB/T29490 management system certifications. SmartGen is the "AAAA-Class" Enterprise with Good Practice on Standardization and also drafted national standards for genset control module.
SmartGen, which owns nearly 50 offices or agencies in the domestic and overseas, is committed to providing satisfied products and services for customers around the world to achieve win-win cooperation.
1.HGM180
The Model 180/180HC is an antomatic engine control module. The module is used to automactically start and stop the engine, indicating the operational status and fault conditions, autmatically shutting down the engine and indicating the engine failure by LED on the front panel. HGM180HC appended a LCD hours count that base on HGM180.
Operation
If you use HGM180 for the first time, configure is necessary. If you want to configure the module, please look configuration. Operation of the module is via a three position key switch mounted on the front panel with OFF(O), START and AUTO positions. In the 'O' position the output are de-energized.
Manual Operation:
1. Select manual run
2. Depress pre-heat button for required length of time
3. Press START to crank engine
Once the start button is pressed and maintained, the engine fuel system is energized. The 'Crank' output is then energized and the starter motor operated, disengaging automatically when the engine fires or when the 'Start' button is released. The protection hold-off timer is then initiated.
Automatic Operation:
1. Select AUTO
2. When Remote Start us active, the generator will automatic start
Operation of any of the following alams (which are close on fault) will cause the run output to de-energize:
*Low oil pressure
*High engine temperature
*Auxiliary shutdown
*Over speed
This will remove the fuel supply from the engine and bring it to rest. Each alarm has its own LED indicator and once activated no further alarm conditions will be accepted. The alarm output and relevant LED will remain active until the unit reset by turning the switch to the 'O' position.
Over speed protection
Over speed protection is derived from the generator Hz output. The over frequency circuit monitors the generator Hz output and will shut down the engine immediately if a pre-set frequency level is exceeded. This trip level is selected by a switch for either 50Hz or 60Hz nominal operation (57Hz or 68Hz trip respecitively). During engine cranking and for a short time afterwards the protection hold-off timer (10 seconds) is active and relevant alarm inputs are inhibited. This enables the engine to start and achieve normal running conditions. Once the timer has expired the inputs are enabled providing normal protection from the module.
Charge Failure Warning
Charge failure warning is also provided by monitoring the WL teminal on the charge alternator. This operates on a similar principal to the warning lamp fitted in a motor vehicle, should the output fail the charge fail LED with illuminate. The module will also provide the alternator excitation current via this connection.
Specification
DC Supply: 8 to 35V continuous
Alternator Input Range: 15-306VAC (+20%) RMS
Alternator Input Frequency: 50-60 Hz at rated engine speed.
Over Speed: nominal frequency +14% (+24% Overshoot)
Start Output: Solid state 1A positive B + terminal
Fuel Output: Solid state 1A positive B + terminal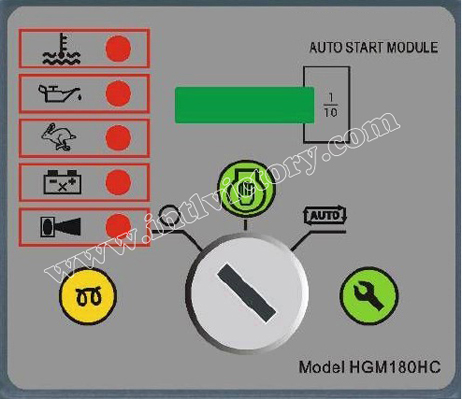 2. HGM6120
Discription
HGM6100U series automatic controller, integrating digital, intelligent and network techniques, is used for automatic control and monitoring system of genset. It can carry out functions of automatic start/stop, data measurement, alarm protection and three "remote" (remote control, remote measure and remote communication). The controller uses LCD display, optional display interface including Chinese, English, Spanish and Russian with easy and reliable operation.
HGM6100U series automatic controller uses micro-processing technique which can achieve precision measurement, value adjustment, timing and threshold setting etc.. All the parameters can be configured from front panel or use programmable interface (or RS485 interface) to adjust via PC. It can be widely used in all types of automatic control system for its compact structure, simple connections and high reliability.
Performance and characteristics
HGM6100U controller has four variants:
HGM6110U/6110UC: Automatic Start Module, it controls generator to start/stop by remote start signal;
HGM6120U/6120UC: Based on HGM6110U/6110UC, it adds mains AC monitoring and mains/generator automatic switching control (AMF), especially suitable for the automation system composed by mains and genset.
Note1: HGM6110UC/6120UC has RS485 port, HGM6110U/6120U without.
Note2: HGM6110UC/6120UC is taken as an example to describe in this manual.
132*64 LCD display with backlight, optional language interface (Chinese, English, Spanish and Russian), push-button operation;
Acrylic screen, improved wearable and scratch resistance property;
Silica-gel panel and keys can well adapt to higher and lower temperature;
With RS485 communication port, can achieve "three remote" functions via MODBUS protocol;
Adapt to 3P4W, 3P3W, 1P2W and 2P3W (120V/240V), 50Hz/60Hz AC power system;
Can measure and display 3 phase voltage, 3 phase current, frequency, power parameter of mains/gens;
Mains have functions of over/under voltage and lack of phase; Gens have functions of over/under voltage, over/under frequency and over current;
Precision measure and display of parameters about engine,
Control protection: Automatic start/stop of genset, load transfer(ATS control) and perfect failure display and protection;
With ETS, idle speed control, pre-heat control, speed droop/raising control, all of them are relay output;
Parameter setting: Allow user to modify setting and store them in internal FLASH memory. The parameters cannot be lost even when power off. All of parameters can be set not only from the front panel, but also use programmable interface (or PS485 interface) to adjust them via PC.;
Multi sensors of temperature, pressure and fuel level can be used directly, parameters can be defined by user;
Multi conditions of crank disconnect (speed sensor, oil pressure, generator) can be selected;
Power supply range: (8~35)VDC, accommodating to different starting battery volts;
All parameters use digital modulation, instead of analog modulation using conventional potentiometer, having improved reliability and stability;
Add rubber gasket between shell and controller screen, the waterproof can reach IP55;
Controller is fixed by metal fixing clips;
Modular design, flame-retardant ABS shell, embedded mounting, compact structure and easy installation.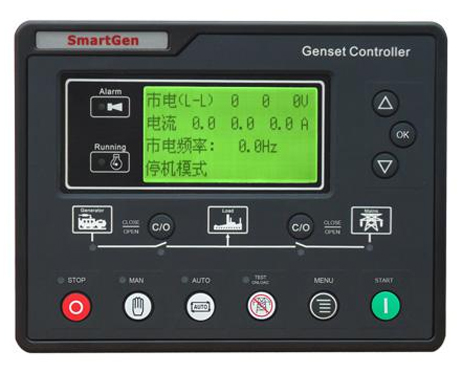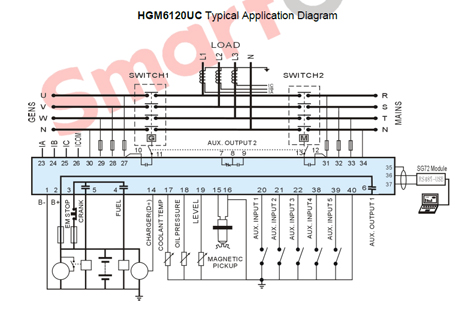 3. HGM 7220
Discription
HGM7200/7100A series genset controllers are used for genset automation and monitor control system of single unit to achieve automatic start/stop, data measure, alarm protection and "three remote" (remote control, remote measuring and remote communication). The controller adopts large liquid crystal display (LCD) and selectable Chinese, English or other languages interface with easy and reliable operation.
HGM7200/7100A controller adopts 32 bits micro-processor technology with precision parameters measuring, fixed value adjustment, time setting and threshold adjusting and etc. The majority of parameters can be set using front panel and all the parameters can be set using PC (via USB port) and can be adjusted and monitored with the help of RS485 ports. It can be widely used in a number of automatic genset control system with compact structure, simple connections and high reliability.
PERFORMANCE AND CHARACTERISTICS
HGM7X10, Auto Start Module, controls genset to start or stop automatically by remote start signal.
HGM7X20, Auto Main Failure, updates based on HGM7X10, especially for automatic system composed by generator and mains.
Main characteristics
With ARM-based 32-bit CPU, highly integrated hardware, new reliability level;
132x64 LCD with backlight, multilingual interface (including English, Chinese or other languages) which can be chosen at the site, making commissioning convenient for factory personnel;
Improved LCD wear-resistance and scratch resistance due to hard screen acrylic;
Silicon panel and pushbuttons for better operation in high-temperature environment;
RS485 communication port enabling remote control, remote measuring, remote communication via ModBus protocol (controller with RS485 port only);
Equipped with SMS (Short Message Service) function. When genset is alarming, controller can send short messages via SMS automatically to max. 5 telephone numbers. besides, generator status can be controlled and checked using SMS (controller with GSM port only);
Equipped with CANBUS port and can communicate with J1939 genset. Not only can you monitoring frequently-used data (such as water temperature, oil pressure, speed, fuel consumption and so on) of ECU machine, but also control starting up, shutdown , raising speed and speed droop via CANBUS port (controller with CAN Bus port only);
Suitable for 3-phase 4-wire, 3-phase 3-wire, single phase 2-wire, and 2-phase 3-wire systems with voltage 120/240V and frequency 50/60Hz;
Collects and shows 3-phase voltage, current, power parameter and frequency of generator or mains.
For Mains, controller has over and under voltage, over and under frequency, loss of phase and phase sequence wrong detection functions; For generator, controller has over and under voltage, over and under frequency, loss of phase, phase sequence wrong, over and reverse power, over current functions.
3 fixed analog sensors (temperature, oil pressure and liquid level);
2 configurable sensors can be set as sensor of temperature or fuel level;
Precision measure and display parameters about Engine,
Protection: automatic start/stop of the gen-set, ATS(Auto Transfer Switch) control with perfect fault indication and protection function;
All output ports are relay-out;
Parameter setting: parameters can be modified and stored in internal EEPROM memory and cannot be lost even in case of power outage; most of them can be adjusted using front panel of the controller and all of them can be modified using PC via USB or RS485 ports.
More kinds of curves of temperature, oil pressure, fuel level can be used directly and users can define the sensor curves by themselves;
Multiple crank disconnect conditions (speed sensor, oil pressure, generator frequency) are optional;
Widely power supply range DC(8~35)V, suitable to different starting battery voltage environment;
Event log and real-time clock.
Scheduled start & stop generator (can be set as start genset once a day/week/month whether with load or not; also can be set as customer weekly in which users can set the start time separately from Monday to Sunday);
Selectivity configuration. Users can choose different configuration by input port.
Can be used on pumping units and as an indicating instrument (indicate and alarm are enable only, relay is inhibited );
With maintenance function. Actions (warning or shutdown) can be set when maintenance time out;
All parameters used digital adjustment, instead of conventional analog modulation with normal potentiometer, more reliability and stability;
Waterproof security level IP55 due to rubber seal installed between the controller enclosure and panel fascia;
Metal fixing clips enable perfect in high temperature environment;
Modular design, self extinguishing ABS plastic enclosure, pluggable connection terminals and embedded installation way; compact structure with easy mounting.